About us
Co-operative games
More and more people find out that they prefer to play with each other instead of against each other. Co-operative games let the players experience the power of collaboration. There is a common goal which is achieved by thinking creatively and making strategic decisions together. There are no opponents; the game itself creates the challenge. The players try to win together, but they can all lose too! Unlike conventional "competitive games" these games stimulate skills such as co-operation, consultation and altruism. Characteristic for co-operative games is the constructive and open atmosphere created during the game.
Sunny Games was founded in 2004 to increase the available range of co-operative games in the Netherlands. In the beginning this was achieved by importing games from the Canadian publisher Family Pastimes and spreading them in the Netherlands. By now, Sunny Games has become a European publisher of 17 co-operative games, most of them in four languages (German, French, English and Dutch) and some are even published with six languages (Polish and Turkish added).
We foresee a world where co-operation is more important than competition. Our games help in a playful way to achieve this.
Authors and artists
Our main author is Jim Deacove, Canadian founder of Family Pastimes. We publish 11 of his game concepts.
We also accommodate European authors with innovative co-operative game concepts.
The artwork for The Secret Door was created by Asia Jackowska. For Max the Tomcat we use artwork earlier developed by Egmont Games in Poland.
Jouke Korf is author for Sunny Games since 2008. So far we published his games Pinch the Poachers, Antarctica en Parado. His games are always exciting and very dynamic.
ZooMemo (2014) is the first game by Marleen van Hoornyck for Sunny Games. Marleen uses co-operative games in education and considers it especially important that children can connect at heart level with the game.
Nisyros (2016) is the debut of Peter Slaman. Peter designs his games with a combination of strategy and a thrilling atmosphere.
Sunny Games has two permanent freelance artists: Tamara Havik (Antarctica, Home Builders and Parado) and Renske Harkema (ZooMemo). For Nisyros we have worked with Melchior van Rijn, also known from the beautiful game Kraków 1325 AD.
Co-operative business
Co-operation is in the core of all operations of Sunny Games. With our business partners we strive for a win-win-win situation. We want to make deals that are favourable to both parties, and (usually together) we pay attention to the outside world. We want our initiatives to contribute to a pleasant society!
Co-operative business also means together with the user. With each reprint, we try to improve our games. Your suggestions and complaints are very welcome!
Sustainable business
Sunny Games is committed to sustainability in three areas:
A stable supply of affordable co-operative games. Unlike other publishers we keep slow moving titles available. Sunny Games grows step by step; this "organic" growth ensures reliability and stability.
Sunny Games ensures fair and safe working conditions for all workers. Production takes place in Western European countries with good collective labour agreements. Relocation of some production to countries with lower wages will only happen under strict conditions.
We do everything to prevent pollution. Already in the design we aim for efficient use of materials which cause little environmental burden. Packaging material is reused or recycled. CO2 emissions from car journeys are compensated. This website and the Sunny Games office consume only renewable electricity and climate compensated gas.
Co-operative games hallmark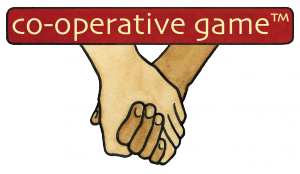 To increase the visibility of co-operative games we developed the hallmark 'co-operative game'. The worldwide protected term co-operative game is now linked to the visual symbolism of people that face the world together. This label is available for all European games publishers who want to publish a co-operative game. Contribution is a donation to the fund, half of which is used for European promotion of co-operative games and the other half is returned to the Canadian founder of the co-operative game principle and owner of the trademark. For more information and conditions, contact us.
Sunny Games and Earth Games
Right from the start, Sunny Games is working closely together with Earth Games. Earth Games provides advice and materials to professionals in education and teaching. The mission of Earth Games is for children to be more connected with themselves, each other and the earth. Stimulating co-operative play is an important part of their work.
Earth Games and Sunny Games work together to raise awareness of co-operative games in general, through workshops, lectures, articles and promotional activities. The 'co-operative game' hallmark is part of our shared mission.
In the development of new games Earth Games is involved from start to finish. This ensures that our games are didactically sound and suitable for a professional audience. Our games are indeed widely used by teachers, therapists and child coaches.
Customer service
We want everyone to play our games with much pleasure and without obstacles. Should a game part be missing, please let us know. Usually we can send it free of charge. We are also happy to help you with any questions about the game rules! Please contact us by phone or using the contact form.